Talk of the School: June 2021
Students and faculty responds to a COVID-filled school year
The scale at which COVID-19 entered the world is something that no one could have predicted. While schools have only endured a year in this pandemic, the physical, social, and mental casualties will be felt for years to come.
The students and staff at Wilton High School reflect on how experiencing a full year of masks, sneeze guards, and cohorts has affected them, discussing the positive and negative impacts, as well as the permanent changes that will be implemented in the future. 
Freshmen, sophomores, juniors, seniors, and teachers have felt a loss of connection between each other at the school. It has been difficult to foster those connections, especially when half of the school is on Zoom and the other half have masks covering their smiles. Kaylie Berghaus, a junior at the school, has an especially interesting opinion.
"School seems to have such a depressed vibe this year which is sad because even when school was hard before, at least you had students hugging each other in the hallways, smiling, talking. Now, everyone's so apart physically and emotionally," Berghaus said. 
It's been especially difficult for the freshmen class, who are starting their high school career over computers and missing out on the typical connection-building traditions of high school. A member of this group, Luka Andjelkovic, agrees with this statement.
"Those relationships are what I rely on, and COVID has definitely decreased those interactions," Andjelkovic said. 
In addition to the lack of interaction at school, students have found that learning over Zoom is not beneficial to their educational experience, and these unfortunate circumstances will have an impact on later learning. Senior Nate Newcomer has definitely struggled to deal with the impacts of online learning.
"Without the consistency of going to school every day and seeing my teachers, I was more inclined to turn in assignments late and be less prepared for class," Newcomer said. 
This lack of motivation and inability to learn sufficiently over a computer is not just a symptom of so-called "senioritis." Students in all grades have felt the negative impact of Zoom learning.
"During COVID, I wasn't able to learn as much as I could in school or get the help I needed, so when this school year started, I felt behind and had to catch up," sophomore Marianna Lombardi said.
Despite the mountain of negativity and unfortunate events that the pandemic brought with it, students and teachers have managed to focus on the positives of this situation, such as the helpful changes the school implemented to get everyone through this year. A popular favorite change within students and teachers is the integration of remote Wednesdays. 
"I feel like this year, more than any other year, all of the students and faculty were more mentally and emotionally drained; you could tell in their faces and their energies, so having the remote Wednesdays are a nice reset during the week to just take a breather," explains Berghaus.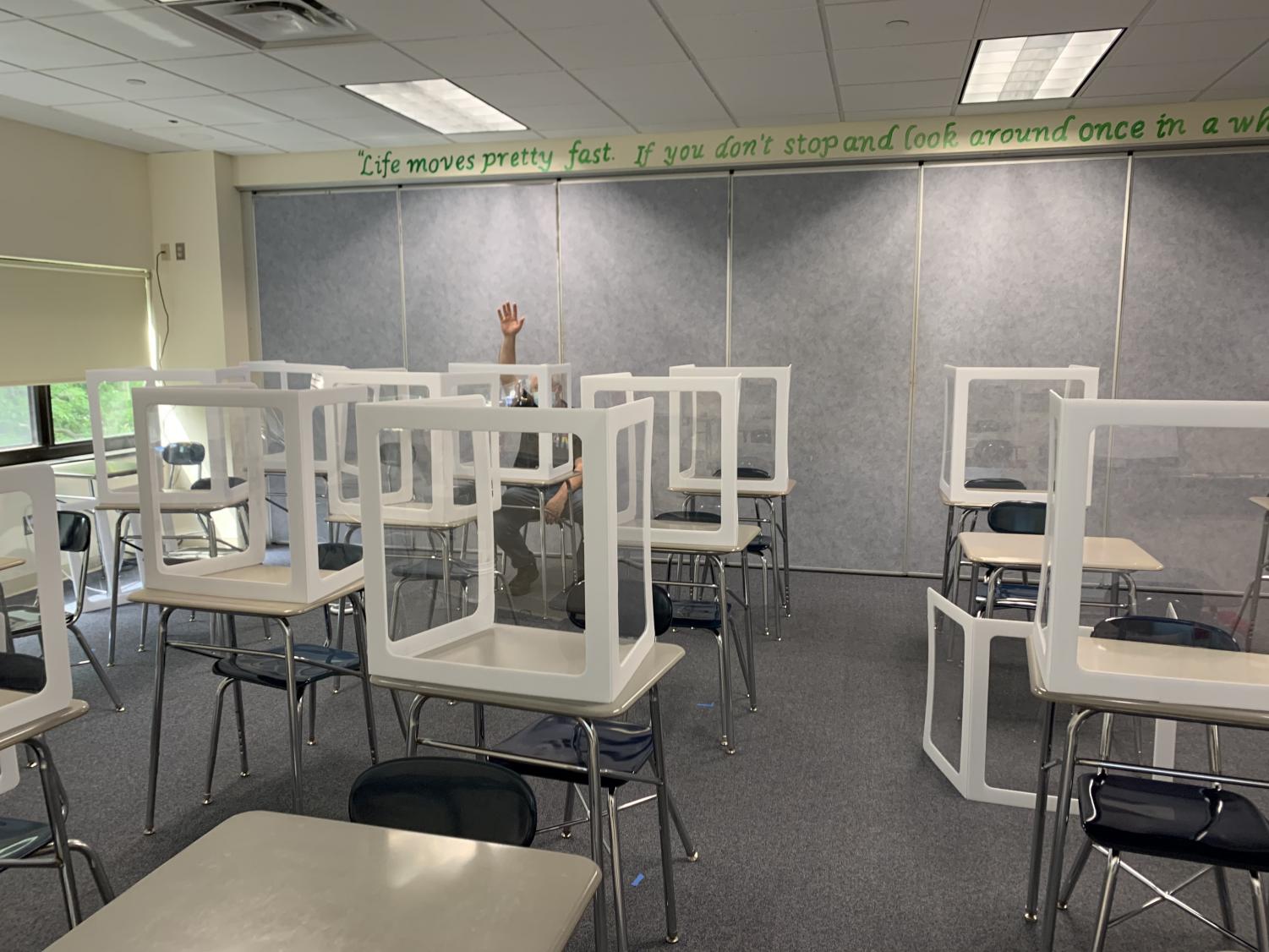 Students also enjoyed having a more flexible schedule this year, which helped them in multiple ways academically.
"I really liked how the schedule was a lot more flexible this year. It was a great time to catch up on work or meet with teachers," sophomore Mia Cawley said.
Another popular positive impact of COVID includes having more time to spend with family and friends, as well as gaining a new perspective about yourself. Andjelkovic explains how his family has made the most of this situation by taking advantage of the free time and spending it with each other.
"We have a house in Martha's Vineyard, so we've gone up there more throughout the year during the pandemic than we have in previous years. We've also had more time for family movie nights, game nights, more time to go out for dinner, all that kind of stuff."
Other students recount that they spent more time working on themselves, finding new hobbies, and exploring new opportunities. 
"It was a good way to find new hobbies for myself, because in the beginning, when everything was shut down, I thought it was a good way to really find myself and have 'me-time.' For example, I refound an old hobby of playing the guitar," junior Vivien Latt said. 
While students and teachers have reacted to the positive and negative impacts of living through COVID-19, they have also noticed the permanent changes that the pandemic has caused the world to implement. Students and teachers hope to see changes in how mental health is addressed, especially considering the drastic impact it has on the mental health of everyone around the world.
"We've been really good about checking in and having mental health days or forms to check-in with everyone. It took us this long to now be aware of it, and it should be a constant," freshman Maddie Dineen said.
In addition to increased awareness of mental health issues, students and teachers have observed a new sense of independence in the school, and they believe that it will carry on in future years.
Senior Roen Crameri has become more self-driven as a result of the pandemic, and he's glad that the pandemic pushed him to grow.
"I've taken things for granted, and the pandemic put more things in perspective in my life. I think, for me, a lot of this growth was becoming more independent," Crameri said.
Teachers have also taken into account that students are moving away from the previous constant assistance that they used to receive, and are instead taking control of their academic success.
"What I've come to discover from students is that they have become more independent," Mr. Liptack, a physics teacher, said. "In previous years, there would be a lot more social interaction, but there would also be 'Oh, I don't know number two! Oh, I don't get number three!' And now, students are not asking those questions, but still getting them answered."
Despite the ups and downs of this chaotic year, students and teachers have managed to overcome the numerous frustrating challenges the pandemic has thrown at them. As the year concludes, all students and teachers can hope for is the return of a normal school year, without the suffocating masks, confining sneeze guards, and frustrating technology.
Leave a Comment
About the Contributor
Ava Marini, Staff Writer
Ava Marini is a senior at Wilton High School. This year, she is thrilled to be a Staff Writer for The Forum. She has always had a love for writing and recently discovered her passion for journalism. She is excited to write about her school and community!