Anastasia Rogozinski
February 1, 2019
The end of semester always brings the stress of keeping track of grades so they don't suddenly plummet dramatically and midterms. Midterms seem to bring an unprecedented...
May 25, 2018
The beginning of fourth quarter can only mean one thing for seniors: senior slump. With all of the important...
Standardized Testing: The Fun Never Stops!
May 25, 2018
Ah, spring. The sun is out, the birds are chirping, the flowers are blooming, and if you listen closely,...
December 15, 2017
Assembling in the field house, Wilton High School Student and Staff spent this past Friday honoring our...
Cole Stefan
March 20, 2019
That time of year has arrived again. While parts of the nation still grip with the cold, the southern portion of the US has had a lot of spring training in the days leading...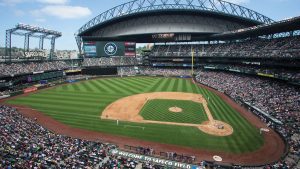 Cole Stefan
December 14, 2018
Since 1977, the Seattle Mariners have been a franchise that has only been to the playoffs six times. All of those appearances were within a span of ten years ranging from...