Coming Full-Circle: What We Learned from the Pandemic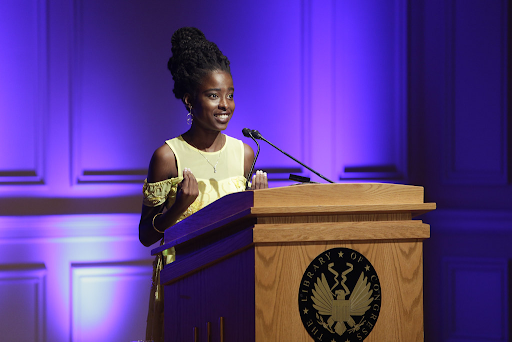 Recently, I've been thinking a lot about time. I'm quickly nearing the end of my senior year, but I'm not so sure I feel like a senior. It seems like it went too fast, but in other ways, it feels like it dragged on forever.
The only thing that remained constant during this train wreck of the "best years of my life" is reading. In a time where everything seemed dystopian, words were the only thing that kept me sane – well, as sane as you can be when the world is crumbling around you. So, in one of those I-need-to-escape-my-life kind of moments, I picked up Call Us What We Carry by Amanda Gorman. I had followed her work since her historic inauguration poem back in January of 2021, and couldn't wait to enter another reality, one in which this time warp ended and everything was normal again. But instead, I found myself learning more about myself than I ever could have imagined. 
Needless to say, the book left a lasting impression on me. Not because of the way it was written, but because it showed how much we, as a society, had changed. I wondered how many people had reinvented themselves during this time, or more accurately, come home to the person they always were. 
So I decided to do some research. I wrote up a series of questions about the pandemic and, scared out of my mind, interviewed anyone who would give me answers. Through this process, I've learned a lot about the Wilton High School community; what we've done wrong, what we've done right, and what we can do going forward. 
"Humans are resistant to change, but they can adapt and evolve in a surprising way when necessary."
My mom always told me that high school is where you find yourself. And even in this unprecedented era, that still remains true. 
"I personally think that I've become a lot more patient," Hala Hourani, an English teacher at Wilton High School, said. "I've become much more patient with myself and with others because plans can go astray. I've [also] learned to let go a lot more. Just to lower the expectations, go through things day by day, and know that things can be disrupted at a moment's notice."
Kristina Soderholm, a Child/ Human Development teacher at Wilton High School, agrees.
"Being in this environment, you have to be okay with not having things planned [out] and scheduled and understand that things aren't always going to go to plan," Soderholm said. "At any moment, anything can change. We don't know when a new strain will come out, we don't know when anything's going to happen anymore. So it's okay to plan, but it's also important … to be able to pick up and do things in any way."
Picking up and carrying on with our lives seems to be a common thread. Nothing about these past couple of years has been normal; in fact, the only constant has been change. But instead of resisting it, we've risen to the occasion. 
"I've learned how resilient we are," says Sophie Shipman, a senior at Wilton High School. "[I've learned that] we can adapt on the spot."
"Humans are resistant to change," adds Jean Brey, an English teacher at Wilton High School. "But they can adapt and evolve in a surprising way when necessary."
"I learned that I'm a lot more loved than I thought I was."
One part of this pandemic that I've struggled with is choosing who to trust. With a virus that forces us to isolate and quarantine, we had to be so selective about who we let in our cohort. It's been difficult in a lot of ways. Hala Hourani knows that well. Like all Wilton High School teachers, she had to balance hybrid learning, quarantines, and cohorts.
"In the beginning, when [schools] first shut down, we didn't see anyone at all," Hourani said. "And then, even in the hybrid years, being off-and-on a couple of times a week, seeing them behind masks and screens and not being able to [talk to] them. So even having them in class was not like having them in class now." 
But despite how difficult cohorts were, they brought some students closer together.
"The biggest thing I've taken away is that you had to pick your cohort," Dana Wax, a senior at Wilton High School, said. "To have people pick me was an experience that taught me things about myself I didn't know before. That feeling of 'oh yeah, I would pick you' … is something that felt very important to me. That's one of the best things that I've taken away."
Covid has brought a lot of things into perspective. As a school community, we've learned a lot about ourselves and the world we live in. But more than anything, we've learned how much the people around us care. "I think I learned that I'm a lot more loved than I thought I was," Wax adds. 
"I am looking forward to the day when Covid becomes a nuisance, rather than this looming presence that permeates everything."
Despite everything that has happened, the Wilton High School community still holds hope for the future.
"At the end of the day, Wilton needs to stay a unit in itself and remember that we're all going through this together," Soderholm said. "We all have different opinions on things, but at the end of the day, our experiences are as a community… the best thing we could do is try to stick together through this."
"I hope that when faced with adversity, we can prioritize community," Brey said.
Sticking together is difficult when we're fighting a virus that forces people to be apart. But that doesn't mean it's impossible.
"We're going to be resilient, we're going to cope the best we can, we're going to get through it," Hourani said. 
"Our scars are the brightest parts of us."
When I started these interviews, I thought my experience was somewhat uncommon. But over these past couple of weeks (yes, these interviews literally took weeks), I've learned that we're all experiencing the same things. We're all dealing with loneliness, change, and uncertainty. But we are also learning how to be more self-aware. Teaching ourselves how to hope. Seeing how important this community is. And that is what brings us together. Beyond what we got on the last quiz or our performance on the latest standardized test, we all want the same thing- to be a part of something bigger. And this community is something that is unforgettable.
I'm going to graduate in June, but I don't think I'll ever forget what I learned here. This community has taught me about forgiveness, resilience, and acceptance — all lessons I won't ignore.
When I was reading Call Us What We Carry, there was one quote that stuck out to me- "our scars are the brightest parts of us." Even when everything seems dark, there is always a light. Even when it seems like we're stuck in a time loop.
Leave a Comment
About the Contributor
Linda Petersen, Staff Writer
Linda Petersen is a senior at Wilton High School. She is honored to be a part of The Forum this year as a staff writer. She is passionate about creative writing and investigative journalism and specializes in opinion pieces.