"We live in fear"
The Disappearance of Itai Dzamara
On the morning of March 9, 2015, Zimbabwean journalist and activist Itai Dzamara disappeared. Five people, dressed as civilians, handcuffed him in his neighborhood, threw him into the back of a white van with no license plates, and drove away. Not a word of him has been heard since that day.
The term "disappearance" has been used to describe the situation. But in reality, it's too light and unsuspecting. Dzamara didn't leave on his own accord and not come back. He was kidnapped.
Based on Dzamara's past and occupation, it's unlikely that the government will help find him. Government kidnappings often happen when the government wants to instill terror in citizens and teach them a lesson. Many think of this as an option for the occurrence.
This isn't the first time Zimbabwean authorities have curbed peaceful protests and tried to silence passionate citizens. According to Amnesty International, a global organization that works to defend fundamental human rights, specific claims have been made.
"Civil society space continue(s) to shrink (in Zimbabwe) as the authorities continue to suppress, persecute activists and curtail peaceful protests. State security agents continued to use excessive force in dispersing protests and assemblies."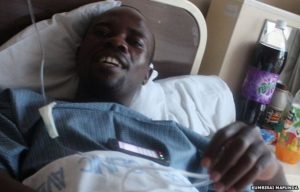 In Dzamara's case, he was most likely kidnapped because of his open disagreement with the government. As the leader of the pro-democracy peaceful protest group Occupy Africa Unity Square, Dzamara led many peaceful protests, wrote many articles criticizing the government, and even wrote a letter to Robert Mugabe, Zimbabwe's president at the time, demanding that he hold peaceful and fair elections to find a new leader for the country followed by a prompt resignation. 
Dzamara had previously been unlawfully detained and beaten by officials but still refused to be defeated by their controlling threats. By kidnapping Dzamara, the government hinted at the citizens that action would be taken if they go against high authority.
"Itai did nothing wrong. Everything he did is allowed in the constitution. He protested peacefully and never destroyed anything," Dzamara's wife, Sheffra, said.
Immediately after his kidnapping, Sheffra Dzamara reported Dzamara missing to a local police department. No meaningful efforts or investigations to find Dzamara and hold the guilty parties accountable for his kidnapping have been made since, thus hinting at the government's unwillingness to reveal Dzamara's status whereabouts to the public.
In addition to these sufferings, a multitude of Universal Human Rights established in the Universal Declaration of Human Rights were violated in Dzamara's case.
According to the Universal Declaration of Human Rights' preamble, many rights are given to the citizens.
"Everyone is entitled to all the rights and freedoms set forth in this Declaration, without distinction of any kind, such as race, colour, sex, language, religion, political or other opinion, national or social origin, property, birth or other status."
While this certainly applies to Dzamara as well as every other human being, the rights being violated in Dzamara's case are his right to family life, a fair trial, freedom, freedom of expression, being a member of society, and possibly his liberty not to be tortured and his right to life.
Beyond the technical aspects of his disappearance, Dzamara wasn't the only victim in his situation. His wife and two young sons suffer in the absence of their husband and father. And they still demand justice, which seems unlikely ever to be granted. Their emotional and mental health has been put into jeopardy and their source of financial support.
"Itai was the breadwinner in our family, so his abduction has affected our family's survival. We now rely on donations to be able to afford day-to-day essentials," said Sheffra.
Despite having suffered such a detrimental loss, the Dzamara family still always anticipates an attack. Being the family of an activist who disappeared and then having spoken out about it, Sheffra and her two sons wonder if the government will take another action to tear apart her family and community.
"We live in fear. We are afraid that they might take one of our children or maybe they might take me now, because they are unpredictable people."
The entire journalism community suffers as a result of this kidnapping. Journalists in countries known for the censorship of civil disapproval often have to choose between having their job and following their passion and living to see another day.
Dzamara's story represents thousands of journalists who have disappeared and thousands of families and communities who mourn the uncertain loss of a loved one. 
Leave a Comment
About the Contributor
Grace DiBuono-Krafick, Staff Writer
Grace DiBuono-Krafick is a junior at Wilton High School. As a Staff Writer for The Forum, her favorite topics to write about are current events, local news, and sports. Besides being an avid writer, she plays softball and volleyball. She also participates in many other clubs at Wilton High School, including Amnesty International and Key Club. Outside of school, she loves spending time outdoors and with friends and family.