Despite the pandemic, Wilton High School members still find ways to smile
Back in March, no one expected to be shut down for more than two weeks. Students even expressed excitement at having days off from school, laughing at the absurdity of the situation and anticipating a quick return once the supposed "drama" died down. However, when weeks turned into months, and people had to quarantine as events got cancelled and school moved online, it became harder to stay optimistic. Individuals faced monotonous, seemingly endless routines, losing any sense of motivation they once had. Unable to locate purpose and direction, humans battled with mental health, overwhelmed with new levels of depression and anxiety.
In late March, a Kaiser Family Foundation Poll found that about 45% of adults felt the impacts of the coronavirus on their mental health. If this was the response at the beginning of the pandemic, just imagine where society is now, as people tackle new forms of communication, such as Zoom and FaceTime, which continue to replace in-person interaction.
Although, this is only half of the story. COVID-19 has certainly presented many challenges for humanity, but by handling these challenges, human perseverance and motivation has been tested more than ever. This, in turn, has pushed the development of internal strength within society. Individuals need to be given the opportunity to face new obstacles in order to ultimately adapt as a human race.
As a school community, Wilton has definitely demonstrated the determination necessary to push through these tough times, setting a great example for the rest of the town when it has come to being flexible and open minded. Now, as they look back on this crazy, unprecedented year as a whole, and continue to adjust to their new "normal," Wilton High School students and teachers, even beneath their masks, are still finding ways to smile.
Getting together with large groups of people has been nearly impossible with the restrictions and guidelines of the virus, but many students found that there were several benefits as a result of this. Wilton High School junior, Cecilia Aversano, uses the term "bubbles" to describe the small groups of people she was able to get closer with, mentioning that she could "pay attention to friends and family without the distraction of large groups or activities." Consequently, this led to the creation of "stronger bonds" with those specific individuals, leading to healthier, and most importantly, happier, relationships.
Others, like students Dylan Bender and Kaylie Berghaus, similarly feel that they were "able to spend more time with family." Not only could Kaylie specifically focus on interacting with her brother and parents more, but she gained a greater appreciation for that time as well.
In the busy lives of teenagers, it can be hard to prioritize spending time with family members as it often appears less significant in comparison to school, extracurricular activities, and other events. Since the pandemic has slowed the craziness of the adolescent life, family time has finally gained importance.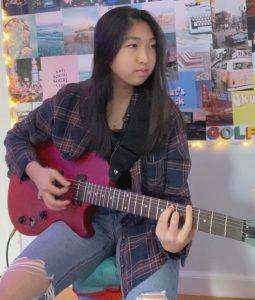 While the formation of relationships with others is important, other students felt that the pandemic allowed them to better come to terms with themselves. Many were able to develop a sense of introspection, leading to "self discovery" as junior Vivien Latt puts it, by locating their true interests. Latt explained being able to really find her "style" by picking up the guitar again, rediscovering an old passion.
Gillian Lipsky also describes how she has used her own love for music in order to deal with stress and create a more fun environment for herself. In the past year, Gillian has listened to 55,700 minutes of music on her Spotify account, which is shockingly more than the length of an entire month.
Aki Lasher, another junior at the school, seems to speak for everyone when she says quarantine has helped her realize that her "own company was enough." Being able to finally focus on aspects of her life that really mattered to occupy her independent time, Aki states that she can now pause and catch her breath. "I should value myself enough to only keep things that bring me joy in my life," she adds, expressing an important lesson for all.
Similarly, student Cathy Campbell felt that the pandemic opened her eyes to how much her life has changed from when she was younger, specifically addressing how she has regained her "awareness of the outside world and of nature." As a teenager before the pandemic, she felt that her life had been directed farther and farther away from the outside world, losing appreciation for something as simple as fresh air since school kept her occupied indoors for most of the day. However, thanks to the pandemic, she has been able to find motivation to be outside again, taking up "hiking, biking, and having picnics" as fun activities.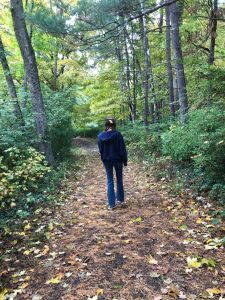 Becca Crocitto and Michael Soojian, other members of the junior class, found that the pandemic not only helped them locate their passion, but develop it as well. By cooking for her family almost every night since the start of quarantine, Becca's cooking skills have improved tremendously, while Michael has been able to "develop stronger driving skills" in order to participate in a local "Safe Rides" program. Now having the time to focus on themselves and enhance their own roles in the world, many students have benefitted at the high school greatly.
However, students are not the only ones able to find positivity in these challenging times. Teachers have remained optimistic as well, discovering new ways to adapt to virtual learning. Mrs. Rinaldi, a chemistry teacher at the school, shares how she has engaged students and made her classes "more than an academic experience." Rinaldi continues, "When students enter our zoom sessions we play music requests. It's fun to hear Van Morrison, Jimmy Hendrix, John Coltrane, David Brubeck and of course we can't forget Taylor Swift. For the month of December, students are sending in their favorite clips from holiday movies. Today, we watched a two minute clip from Elf. How fun is that? Not that chemistry isn't super fun and exciting, but we never would have taken as much time in a non-COVID environment to slow down and get to know and support each other. I for one am loving it!" Her students feel the same way about how the class is running, enjoying the slight break by watching a fun holiday clip before getting into the curriculum.
"
I realized that my own company was enough.
— Aki Lasher
Math teacher Mrs. Schnell also feels that a new exposure to technology has enhanced the learning experience.
"Since the spring when we have been forced to do things more electronically, I have really enjoyed being pushed out of my comfort zone to have to learn how to use online platforms that I hadn't used in previous years," she states, demonstrating how even a challenge can lead to benefits in the long run. "I also have spent more time developing lessons with some of the older online platforms, like Desmos Classroom and Geogebra and Google Docs, so that I can provide more real-time feedback to students to help them monitor and adjust their learning. I really do find enjoyment in learning new things and I'm always up for the challenge of growing as an educator to bring better opportunities to engage students in learning mathematics."
While adapting in the classroom due to the pandemic is a main area of focus for most educators, other teachers have found positivity in their personal lives. Spanish teacher Señora Hernández found that the new "slower" way of life due to the pandemic has actually improved her connection with her family. "I have been able to see my husband more because he has been working from home, and my three sons, who do not live in CT anymore, have been able to come home for a month and work from home as well." Señora Hernández certainly recognizes the importance of family and feels their presence has helped her manage the difficulties of the current school year.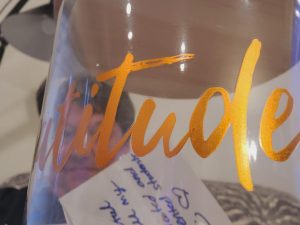 Ms. Cota, a member of the English Department at Wilton High School, has also benefited personally from a change of pace in comparison to her previously busy schedule.
"During this pandemic, I definitely have enjoyed afternoon naps, reading more, and throwing my own dance parties with my Alexa. Don't judge, but I like to dance and exercise to Taylor Swift!" Cota also mentions improvements in communication with several family members during the summer, as she was able to have coffee with her mom almost everyday over the phone or FaceTime, and could talk with her siblings "during the day rather than late at night." Most importantly, Cota adds, is that this new way of life has given her more opportunities to be grateful each and everyday. This has led to the creation of her "Gratitude Jar" in which she will be able to look back on at the end of the year and see what she was thankful for. She made sure to jot down the simplest of moments as well, reminding herself of the joy that comes from actions such as just sitting in the sun, drinking a warm cup of coffee, or finding the time to read a favorite book.
In times like these, it is truly amazing to see so many members of Wilton High School keeping their heads up and persevering through times of uncertainty and fear. From finding a sense of self, to developing better communication with others, and to improving the learning environment in ways never considered possible, the pandemic certainly has had some positive moments. With a smile on their faces, and a determination to make it through the year, Wilton High School members are not only trying to remain positive and push through for the benefit of themselves, but to inspire others to do the same. With hope and faith in our own abilities, as well of those of the people around us, the community, and even the world, may just get a little brighter.
Leave a Comment