Nadal Secures Historic Win at Roland Garros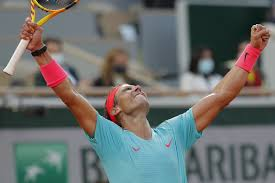 No. 2 seed Rafael Nadal secured his 13th win at Roland Garros against No. 1 seed Novak Djokovic tying Roger Federer's all-time mark of 20 major grand slam titles. The 36-year-old Spaniard routed arguably his toughest rival 6-0, 6-2, 7-5 on Sunday. 
Both players were under enormous pressure as one of the two were going to make history on Court Philippe-Chatrier located in Paris, France. The 2 seeded Nadal prevailed and tied Roger Federer's feat of 20 major titles in a 2 hour and 42-minute match against the former 2016 champion Novak Djokovic. Nadal said, "A very tough year but a win here means everything to me. It's not the moment, honestly not for me, I don't think today being the 20th, equalling Roger on this great number,"(Roland Garros). Now, the so-called "King of Clay" improves to a 22-4 record in the 2020 tennis season and a 60-8 record on Clay Court Tournament Finals, the most by any player in professional tennis history. 
This was the first time Nadal had beaten Djokovic in a Grand Slam final since Roland Garros 2014, just six years prior to Nadal's historic win. The Association of Tennis Professionals states, "It was a very tough match for me today. Obviously, I'm not so pleased with the way I played but I was definitely overplayed by a better player today on the court. It's been a fantastic couple of weeks. The situation is very difficult for everyone worldwide but we have the possibility to play the sport we love"(ATP). 
Hopefully, Nadal (20 major titles) and Djokovic (17 major titles) will face off more in the future, as this match marks the intense rivalry of the two greats in our era.