Where the Crawdads Sing: A Tune of Disappointment
"Secrets are buried just beneath the surface."
The film adaptation of Where the Crawdads Sing reveals the secrets of the marsh; however, viewers find themselves lost in the chaos of the hanging moss, dark swamp water, and shallow plot.
The movie follows Kya (Daisy Edgar-Jones), "marsh girl", who as a toddler was abandoned by her family and forced to survive alone in the North Carolina wilderness. To financially support herself, she farms mussels along the coastline to sell to Jumpin (Sterling Macer Jr) and Mabel (Michael Hyatt), owners of the local store. In her years of solitude, she develops a curiosity about the various creatures that inhabit the place she calls home.
The film begins in 1969, when Kya's former boyfriend Chase Andrews (Harris Dickinson) is found dead at the foot of the fire tower with evidence pointing towards Kya as the murderer. Much of the movie's suspense and action is built on an empathetic lawyer who chooses to represent her in court and to dissolve her reputation as dirty and uncivilized.  
Despite these plot points depicting fictional town Barkley Cove as vibrant and textured, the movie fails to capture the dimension of its characters, plot, and the reform revolutions that inform the backdrop of the 1950s and 1960s. 
Sexual abuse is a glaring danger in Kya's relationship with Chase, but she quickly dismisses it, claiming that the authorities would not believe her. Just as the film barely acknowledges women's domestic and sexual abuse, other historical trends do not even receive a mention.
Strangely, Jumpin and Mabel represent the only black characters in the entire production, and are treated with dignity and respect, washing out any historically accurate racism that they would have faced in that time period. Neglecting racial inequities dilutes the vivid history of the past, commenting more on the dominant white perspective, rather than society's inability to support those who dare to challenge the status quo. 
Kya's coming-of-age story is centered around her escape from class discrimination and gender stereotypes in pursuit of survival. Entangled in a relationship with Chase, seemingly contradicting her character as a feminine heroine, Kya is failed repeatedly by the people she trusts most.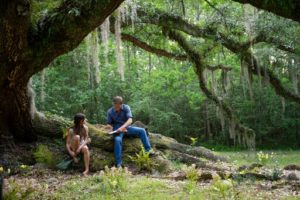 The film turns the novel's original story into a summer flick, where Kya's romances are presented in repetitive montages of makeout scenes. Intimacy is told in long segments, reducing the relationship into an empty and overdone one. As a result, Kya's relationships with Tate (Taylor John Smith) and Chase carry a lesser emotional weight than Kya's relationship with Jumpin and Mabel, who are only supporting characters. The plot repeats the tired scenario of a weak damsel in distress, facing malicious and deceiving men. 
The swamp's shifting mist and unpredictability is reflected in the film's messy jumps between Kya's murder trial and scenes from her childhood to adulthood. Director Olivia Newman's awkward pacing causes unsettled emotions — most scenes end with a question mark. Perhaps fluidity was the aim of the peculiar style, but the intended sympathy viewers should feel for Kya feels half artificial, half strained.
Nevertheless, the ending drops just enough of a spine-tingling jolt to subvert expectations of what we believe to be the most transparent and familiar characters. This refreshing unexpectedness is spoiled when Newman attempts to squeeze these developments in the last ten minutes.
The film concludes with Taylor Swift's newly released single Carolina, whose haunting lyrics "and there are places I will never ever go / and things that only Carolina will ever know" accurately depict the marsh's untold secrets.
Where the Crawdads Sing is a mediocre summer flick with elements of action and mystery. If you're looking for a lighthearted romance, Where the Crawdads Sing is a satisfactory choice, but if you're looking for a complex and dimensional narrative, I'd recommend you save your money.
Leave a Comment
About the Contributor
Joy Ren, Editor-in-Chief
Joy Ren is a senior at Wilton High School. This year, she is so excited to fulfill the role as Editor-in-Chief of The Forum. Socially conscious and seeking a variety of experiences, she loves to write about her community under the Humans of WHS column. In her free time, nothing is more perfect than working on the Saturday crossword with a steaming mug of tea.