The Oscar's: Best and Worst Fashions on the Red Carpet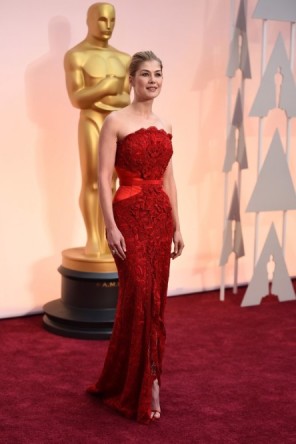 Parker Mavis
For a select few, it's the most glamorous time of the year—the Oscars. Though some media outlets and campaigns such as the #askhermore campaign worked on asking more in depth questions to celebrities, gowns were still the most popular topic for discussion. Knowing this, let's take a look at which celebrities stunned at this year's Academy Awards.
First off, Emma Stone wowed in a controversial color that left everyone wanting a second look at her dress. Many have commented on the dress, saying that it mirrors the color of a tennis ball. Nevertheless, Ms. Stone carried the look off effortlessly.
Known for her violent portrayal of Amy Dunne in Gone Girl, Rosamund Pike wore a blood-red Givenchy gown that showed off her post-pregnancy body flawlessly. Some struggle to pull of matching shoes but in this situation, Mrs. Pike made the right choice. Any other color shoe would be a distraction from the intricate detailing of the bodice in the gown.
It was obvious that white was a popular choice for dresses this year which was unfortunate due to the pale background of the red carpet. This caused many actresses to look washed out in their jaw dropping gowns (for example, Lupita Nyong'o's 6,000-pearl dress did not reflect well in photos).
Other nominees, such as Julianne Moore and Patricia Arquette, did not choose gowns that flattered themselves. Mrs. Moore wore a Chanel white-beaded gown that was embellished with ill-placed organza flowers that were placed around her hips. This gave the dress an odd look from the photographs that were taken in front of the white background. Winning the Best Actress award for her work in Boyhood, Patricia Arquette came to the Oscars looking a bit disheveled. The look she chose to wear to the Academy Awards was plain and not a fashion risk in any way.
In many ways, the Academy Awards is a chance for actors and actresses to be recognized for great success in film but also recognized for great success in style..