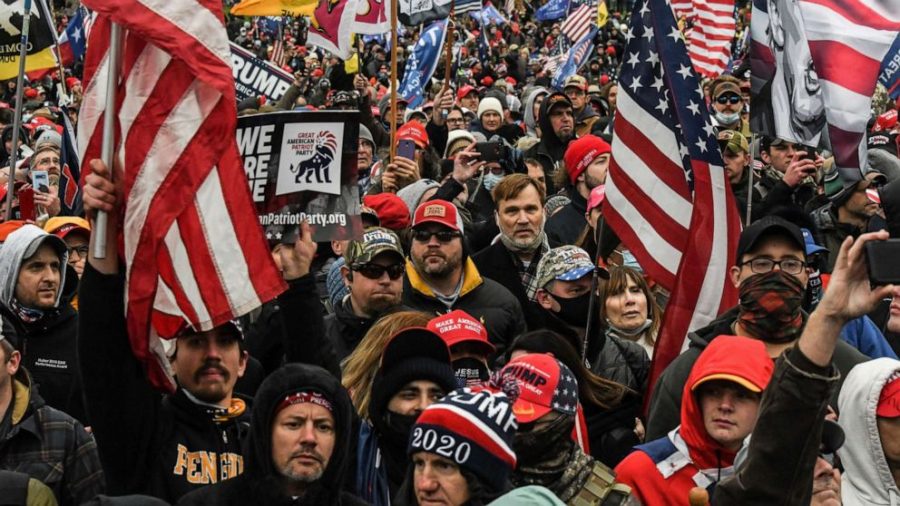 ABC News
Tragedy hit as both chambers of Congress were pushed to shelter-in-place in the U.S. Capitol Building. A handful of security officers pointed their service weapons at the door, and strikes were heard as fear sunk in.
"You could hear a pounding on the doors on the outside," said Rep. David Trone (D-Md.). "At that point, they had us get our gas masks out."
On January 6th, 2021, Congress was set to officially declare President-elect Joe Biden as the winner of the 2020 presidency. President Donald J. Trump, who lost both the popular and electoral college vote, took the stage at Ellipse park, just outside the Capitol Building, at around noon of the same day. 
He rallied his advocates, and disputed the results of the election, claiming this is one of fraud.
"They said it's not American to challenge the election. This is the most corrupt election in history, maybe in the world," Trump said. 
Shortly after these words were spoken, the Capitol was stormed by advocates of President Trump. They claimed that their beloved leader should be granted another 4 years in office.
The protestors started by invading the steps of the building, and after a man broke a window of the Capitol's south side, they soon surged their way in. Some trampled the stairs, but others climbed over other people or even boosted themselves up the walls. 
They shattered windows, broke doors, and engulfed the area in Confederate flags. Holding signs with phrases such as "stop the steal," "Trump won," and "dems cheated," the protestors made their way through.
Congress halted the affirmation of the next president to take cover or evacuate the building. They ripped off their name tags, hid under desks and cabinets, and behind doors, all while security provided protection from the mob entering the area. 
Both inside and outside, geared officers sprayed protestors with chemical irritants, and a few arrests were made. 
With little security, the Capitol Building was invaded with ease, and the process of removing all the protestors was a hassle. The police started at the top floor of the building and worked their way down. After hours of protesting, President Trump encouraged his supporters to "go home now." He urged everyone to practice peace and love rather than violence.
At 5:40, the Capitol was confirmed secure and the Mayor declared curfew shortly after. Police escorted protestors out of the area as Congress continued their debate. At 3:41 a.m., Mike Pence announced Joe Biden as the 46th president of the United States.
While there are still smaller protests at the Capitol, January 6th, will always be a day to remember.